Traphaco - Enterprise for Employees in 2017
To praise and honor prestigious enterprises with endless efforts to improve the working environment, to care for employees' material and spiritual life, to build a great corporate culture, and stable and harmonious labor relation for the sustainable development of integration and growth.
On the morning of November 29, 2017 Traphaco was honored to be titled as an Enterprise for Employees and received the Certificate of Merit from the General Confederation of Labor of Vietnam.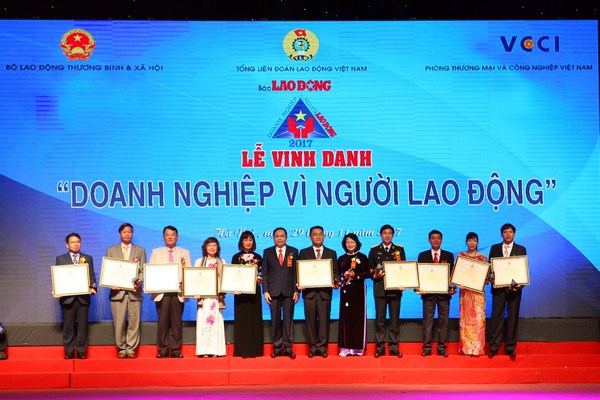 Traphaco is honored to be one of 10 enterprises awarded the certificate of merit by Vietnam General Confederation of Labor
The "Enterprise for Employees" rating is based on a set of strict criteria developed by experts in labor relations and trade unions. The set of criteria ensures a close reflection of the actual employment and regimes for employees in the enterprise in terms of income, training, working environment, social welfare and refreshing activities. In particular, the Criteria give extra points to enterprises which have better welfare for workers and better implementation of the law.
This year, with the theme "Workers in Companion with Enterprise for Sustainable Development", 74 enterprises were honored. Especially, 30 excellent enterprises were awarded Certificates of Merit by the General Confederation of Labor of Vietnam, Ministry of Labor, Invalids and Social Affairs, VCCI.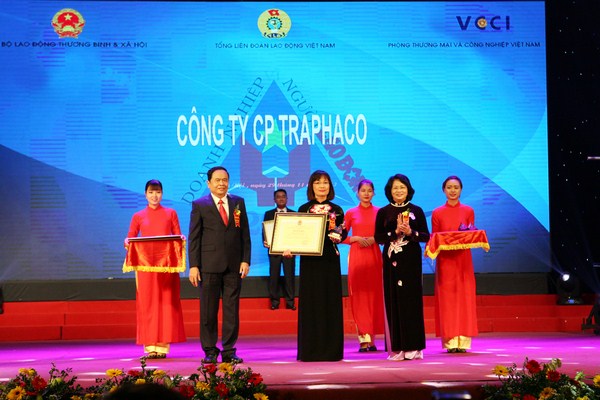 Ms. Tran Thi Anh Phuong - Chairwoman of Traphaco's Trade Union received the Certificate of Merit and Commendation Medal from Mrs. Dang Thi Ngoc Thinh - Member of the Party Central Committee, Vice President and Tran Thanh Man - Member of the Party Central Committee, President of the Vietnam Fatherland Front
From more than 300 applications, Traphaco is one of 10 enterprises to receive this prestigious certificates. Known as an enterprise with extremely good care for workers' life, creating jobs for farmers in the area of ​​medicinal plants, Traphaco's budget for community activities in 2016 was over 20 billion.
According to the results of the survey on employees' happiness in 2017, the happiness index of employees in Traphaco JSC is 82.7 points, significantly higher than the industry average (64.8) and the whole market (63.1). 81% of employees want to stay and work for the company in the long time and are not open to other career opportunities, compared to the average in the industry at 58.2%; 87.3% of employees appreciate and enjoy the experience when working in the company compared with the average in the industry at 70%.
The "Enterprise for Employees Rankings" is a deserving award for Traphaco for its care and protection employees' rights as well as benefits, is a proof that Traphaco is one of the best employers nationwide, where every employee looks forward to working with.