Traphaco is honored as the most prestigious pharmaceutical company in Vietnam for the second consecutive year
On January 19, 2018 at the Grand Plaza Hotel, the Vietnam Report Joint Stock Company (Vietnam Report) announced the Top 10 prestigious Vietnamese pharmaceutical companies of 2017. According to the report, Traphaco Joint Stock Company is honored to be the most prestigious pharmaceutical company in Vietnam in 2017.
The Top 10 prestigious pharmaceutical companies of Vietnam in 2017 results from independent and objective research of Vietnam Report, which has been publishing its report annually since 2016, based on the Media Coding method, which has been employed by Vietnam Report and its partners since 2012.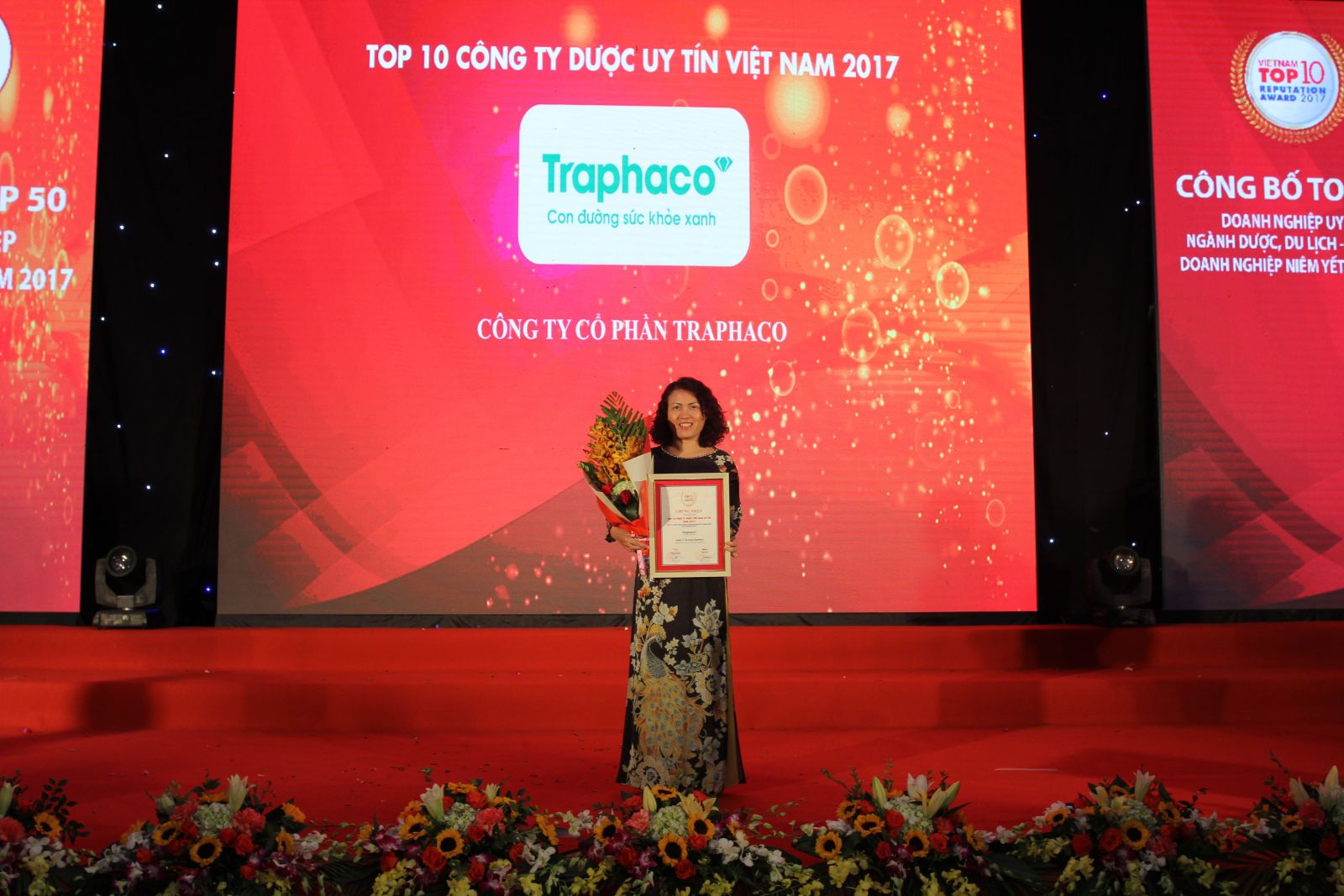 The prestige of a pharmaceutical company is based on the study of the impact of financial factors, corporate image on the media and the assessment of industry experts, namely: (1) Financial resources shown on the latest financial statement (total assets, total revenue, profit after tax, efficiency of capital utilization,etc.); (2) Prestige on the media is assessed by means of Media coding - encoding the company's articles on influential media channels; (3) surveys on the experts in the pharmaceutical industry; Survey on pharmacists / pharmacies and enterprise survey conducted in December 2017 in terms of capital size, market share, labor, revenue growth rate, profitability, and operation plan in 2017,etc.
Traphaco is known as the leading pharmaceutical company with the best distribution system in Vietnam. In addition, Traphaco owns the most modern plant of phamaceuticals and traditional medicines in Vietnam, which meets the Good Manufacturing Practice of the World Health Organization (GMP - WHO), and the extraction plant and many medical herb areas of GACP - WHO standards nationwide. Along with the application of advanced management tools and the modern quality management system, Traphaco has offered high quality products of effective treatment, contributing to the health care and protection for Vietnamese people.
This is the second consecutive year that Traphaco has led the list of the top 10 prestegious pharmaceutical companies in Vietnam. The title affirms the position of Traphaco, and the trust of customers in the company's products, and motivates the company to develop and improve the quality of products and services, helping to bring about a better life.